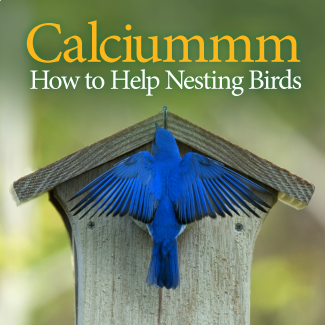 Being Seasonally Savvy: Give Nesting Birds a Hand
Calcium is the most challenging mineral for birds because when they need it, they need large quantities and they need it right away. This is mainly during nesting time for egg laying ans well as chick development. The amount of calcium in their natural diet of seeds and insects is often inadequate and they must seek calcium-rich foods as a supplement. Ask us about the many bird foods we offer which include calcium to help your nesting birds
Top 5 Reasons to Offer Birds Food with Calcium
1. ALL ADULT BIRDS NEED CALCIUM
Calcium is more than a third of the total mineral content of an adult bird, with the skeleton holding about 98%. Interestingly, the proportion of the body weight that is skeleton is similar in birds and mammals.
Calcium is the most challenging mineral that birds need because of the extreme changes in periods of demand (like egg laying and chick development) and because many foods are likely to be deficient in calcium.
Adult birds eating a diet without enough calcium will utilize calcium from their own bones…which could lead to weak and porous bones.
Birds find calcium in natural forms but these sources can be insufficient, especially during nesting time for females and chick growth.
2. THE EGG-LAYING MOTHER BIRD NEEDS CALCIUM
In egg-laying females, most dietary calcium is used for shell formation.
The amount of calcium in the seeds and insects of the natural diet of many birds is inadequate for the production of eggs. Birds will seek calcium-rich foods as a supplement.
Birds that lay more than 2-3 eggs must markedly increase their calcium intake during the days the eggs are laid.
3. EGGS WILL BE MORE NUMEROUS AND STRONGER
Without enough calcium, eggs will have thinner than normal shells which may cause embryos to dry up due to excess evaporation.
If adult birds don't eat enough calcium they may not lay as many eggs as normal.
4. DEVELOPING BABY BIRDS NEED CALCIUM
In chicks, calcium is required for formation of bone.
In growing chicks, a calcium deficiency causes skeletal abnormalities including rickets, lameness, enlarged & painful joints and misshapen bones.
5. BIRDS SEEK OUT CALCIUM
If given a choice between two foods that are identical in every respect except calcium level, chicks and egg-laying females will select a calcium-adequate food more frequently than a deficient one.
When given the opportunity, birds often consume concentrated calcium sources, especially in the evening as they are forming eggs overnight to lay them the next day. Watch for increased evening feeder activity by female birds during nesting time if you are offering calcium-supplemented foods.
A number of Wild Birds Unlimited bird foods contain added calcium carbonate, such as our No-Mess Blend NM CD Bird Seed and our Nesting SuperBlend. Calcium carbonate is quickly and efficiently broken down in the digestive tract to be easily absorbed and used by birds.
Be a seasonally savvy friend to your birds by providing them with the extra calcium they require during nesting season. Shop in-store or online at order.wbu.com/ottawa.