Millions of wild birds are killed each year flying into windows.
Now you can save the lives of the beautiful birds you love.
It is estimated that collisions account for 1 billion bird deaths each year, or 10% of the total bird population in North America. In all of these collisions, buildings pose the biggest threat. Exterior glass, whether it be clear, tinted, or reflective, is not a recognizable part of the natural world for birds, and therefore, they simply do not 'see' it. Daytime collisions are generally associated with the reflection on the glass of vegetation or the sky on the lower floors of taller buildings or residential homes. Residences are responsible for 44% of bird collisions, while low-rises (4 to 11 storeys) account for 55%, and high-rises less than 1%. This is because most collisions happen within 5 storeys of the ground.
Feather Friendly is an easy-to-use and unobtrusive window application that is barely noticeable to humans but highly effective in allowing birds to 'see' the windows, allowing them to avoid deadly collisions with windows.
Feather Friendly® DIY Tape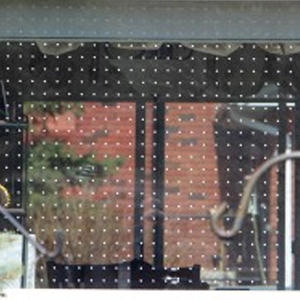 These adhesive dots applied to the outside of your windows create an effective pattern to prevent collisions. Whether you opt for do-it-yourself tape or have it professionally installed, we recommend spacing the dots on a 5 cm x 5 cm (2″ x 2″) grid.
Commercial and institutional applications of Feather Friendly are also available. http://www.conveniencegroup.com/featherfriendly/feather-friendly/
2. WindowAlert is a window decal that may be applied at home and are suitable for smaller areas. The decals contain a component which brilliantly reflects ultraviolet sunlight. This ultraviolet light is invisible to humans, but glows like a stoplight for birds. Birds have vision that is up to 12 times better than that of humans. WindowAlert decals, and new UV Liquid, help birds see windows and avoid striking the glass.
To the human eye, the decals appear as frosted or etched glass. The decals measure approximately 4" across, and are designed to be placed in a dense pattern on the OUTSIDE of a window. Reapply decals every 6-9 months. The decals come in a variety of shapes.
What Does not Work?
Scientific research has shown the following collision-deterrent strategies to be largely ineffective:
Single window decals
Any visual markers or decals spaced too far apart
Any visual markers or decals that have faded or washed off
Treatments applied to the inside of windows
Hawk silhouettes (unless multiple silhouettes are applied in a dense pattern)
Noise deterrents (never effective)
Plastic owls (never effective)