Jabebo Earrings
Unique designs, perfect for any nature lover!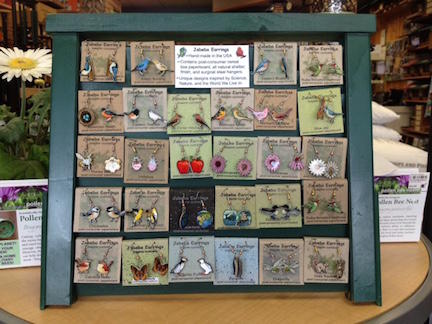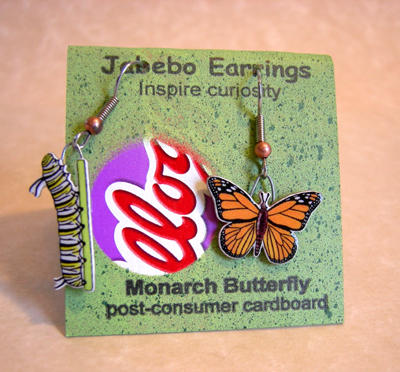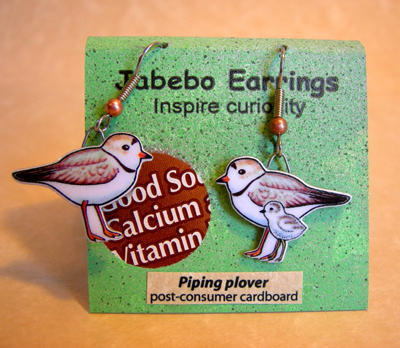 Best of Both Worlds: Original Artwork and Recycled Materials
Jabebo earrings are handmade, colourful designs. Light weight and hung on surgical steel hangers, the earrings inspire curiosity in the wonderous natural diversity of our world.
The earrings are constructed from post-consumer cereal box cardboard. Print and images from the cardboard packaging is visible on the reverse of the earrings. Two layers of cardboard are sandwiched together to provide a sturdy base for the colour image applied on the front. Being made from paper, the earrings are light weight and comfortable to wear. Shellac is used to glue the layers of paper material together and and provides the nice shiny top coat for the finished product. Shellac is a natural product and a renewable resource that will protect the earrings from brief and intermittent exposures to water. It also protects the colours from fading by acting as a natural filter from UV light. They are water resistant, not water proof.
Most of the earrings have differing but complimentary left and right images. Click here to see some of the designs, or visit our store too see them in person!
About the Artist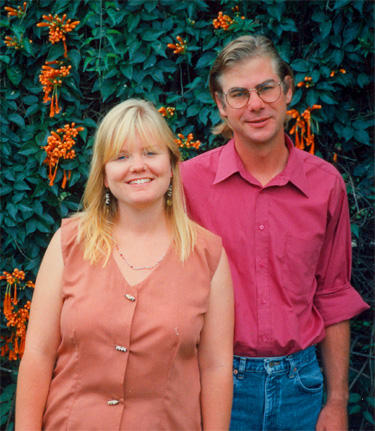 Kevin started Jabebo Earrings in 1995 after he developed a technique of reproducing miniature images (water-color paintings at first, evolving over time into art created directly onto the computer using a stylus and Adobe software) that can be displayed from earring wires. It quickly became his primary creative outlet as he learned to customize the earrings to appeal to specialized tastes. The first stores that carried them were nature centers and refuge visitor centers in the Washington DC area. Today they are carried by more then 50 gift shops at nature centers and wildlife preserves.
Kevin lives with his wife Mary, and their two twin daugters in Central Pennsylvania. Kevin has a diverse work history, ranging from tracking manatees in south Florida to teaching science in Kenya with the Peace Corps to working at the Smithsonian Institution. He met his wife in Kenya where she was teaching at an international school, just south of the Equator, and I at a Kenyan school just north of the equator. Nearly 15 years later, their lives are much less exotic. Kevin has been a stay-at-home dad to their twin daughters, and has also been putting in many long hours while growing Jabebo Earrings. Even though Kevin keeps very busy he still finds time to create other art projects in various mediums as well.