Advanced Pole System
Need to organize your birdfeeders? Do you just need more space to hang them? Are you changing your yard for the spring? We have the perfect solution - the Wild Birds Unlimited patented Advanced Pole System!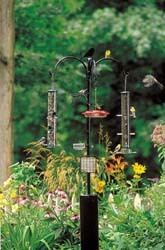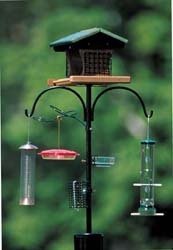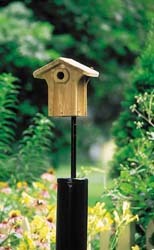 Getting Started
With our Advanced Pole System, there are two basic outlines, from which you can add to and improve on in the future.
The first setup includes a 4' or 3' base pole. This pole twists easily into the ground. From there you can add extension poles (48'', 36'', 18'', or 12''), and any sort of hooks or accessories you like.The second setup is designed to attach to a deck or a fence, with several different mounting techniques, depending on your personal preference. From here, you can build up, add deck arms and accessories.
Remember to pick up your APS Stabilizer, it's crucial to any system. This attachment fits over top of your base pole and gets pushed into the ground. The Stabilizer makes sure your system will remain straight despite any outdoor elements, and you can lawnmower right over top!
Mix & Match
There are so many attachments to chose from, the possibilities are endless!
Squirrel & Raccoon Baffles
Or try our new EZ clip attachments, no fussing with screws or knobs, these pieces just clip on quick and easy!
That's just a few of the hundreds of possible combinations!
Our Advanced Pole System isn't just for feeding either! You can set up a bird bath using our system too! Attach a bath to your existing setup, or set it up on its own (bottom right)!
With the Wild Birds Unlimited Advanced Pole System, there are no limits, so stop in today and try putting something together! Indulge your birds --- and yourself!