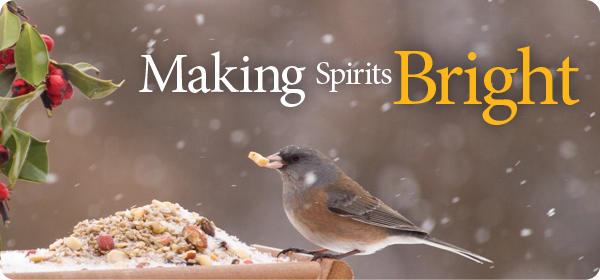 Dear Friends,
As we head into a Holiday Season that's sure to look different this year, we want to personally express our deep gratitude for your continued support during these difficult months of disruption to our normal lives.
At Wild Birds Unlimited, one thing remains the same: we're here to help make the Holidays a time of good memories and joy for you and those you love. We know many of you are looking for ways to stay connected with family and friends you might not see in person this year. We continue to have three ways for you to shop: in-store (unless directed otherwise); online for no-cost curbside pickup; and online for home delivery.
We want to make your Holiday shopping as stress-free as possible, so please keep the following in mind:
Our in-store space is small making social distancing a challenge and resulting in our ongoing effort to regulate the number of customers in-store at one time. We are continuing to follow public health protocols for the protection of guests and our staff. We encourage customers who may not want to come into the store, particularly in inclement weather, to order online for curbside pickup or home delivery. For details please go to www.wbu.com/ottawa.
We are experiencing some shortages and delays in receiving some products from our suppliers, who in turn are experiencing delays from manufacturers. We are managing this as best we can.
As more and more shopping has moved from in-store to online, our shipping carriers are anticipating increased volume and potential delays. If shopping online, we encourage you to place your orders as early as possible.
Our Gift Cards, always a good option are now available online and are redeemable at every Wild Birds Unlimited location.In summary, check your list off early to ensure product availability and timely delivery.
In summary, check your list off early to ensure product availability and timely delivery. Be assured, all of us at WBU Ottawa continue to work hard on your behalf to help you, your family and friends find JOY in your birds. We'll do our very best to get you what you need, when you need it. Thank you for your patience and understanding.
Be well and enjoy your birds!
The WBU Ottawa Team