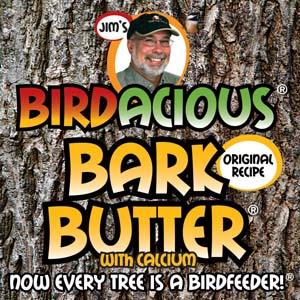 Jim's Birdacious® Bark Butter®
Now Every Tree Can be a Birdfeeder®
No bird food attracts more species of birds than Jim's Birdacious® Bark Butter® having attracted 152 different bird species (and still counting). Bark Butter® is a bird-loving spreadable suet created by Wild Birds Unlimited founder, Jim Carpenter, who was determined to attract the shy Brown Creeper to his yard. Jim spent years perfecting his recipe and eventually came up with the perfect blend of pure rendered beef suet, peanut butter, corn and added calcium for extra nutrition.
Not only did his recipe attract Brown Creepers, but also many other species of birds who may not otherwise visit feeders: Yellow-bellied Sapsuckers, Grey Catbirds, American Robins, Brown Thrashers, Cedar Waxwings, and warbler species including Pine and Magnolia Warblers – to name a few. Bark Butter® is easy to use and turns any tree into a bird feeder by simply spreading it onto the bark with a fork.
With its growing popularity Bark Butter® is also available in different types, such as Bark Butter Bits, Bugs & Bits, Bark Butter Cylinder & Bark Butter suet cakes – endless options! Check out all the great Bark Butter® products we offer at Wild Birds Unlimited and add a tasty new treat to your feeding station that attract many more beautiful birds to your yard!
Shop online at order.wbu.com/ottawa for our exciting Bark Butter® products.