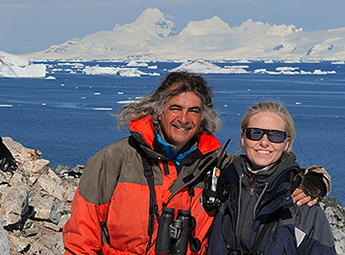 Always An Adventure provides Nature, Wildlife and Photography Services to Certified Agents Worldwide – tour guide services, educational services, photography workshops, courses, presentations, short excursions in Eastern Ontario and West Quebec. Ottawa based Always An Adventure is a family company run by Tony Beck & Nina Stavlund, providing a variety of services & tours focusing on Nature, Wildlife, Birding & Photography.
Tony has been a Professional Photographer and Tour Guide since 1993, and has always loved to share his experiences of the natural world, especially through photography & guiding tours. Tony purchased his first SLR in 1982 and quickly became consumed by its joys & virtues. His award winning work appears in many books, websites, magazines & calendars. An enthusiastic and skilled Naturalist-Tour-Guide, Tony regularly lead groups to exciting destinations all across North America, the Tropical Pacific, Africa, Tropical America and Polar Regions. And he teaches Birdwatching and Nature Photography courses both independently and through a variety of institutions.
Nina is Norwegian by blood, an extensive world traveler, and is now living in Ottawa, Canada. She's also a passionate birder and nature lover, and has logged thousands of hours of birding the last 12 years. She's a professional photographer, graduated from "Bilder Nordic School of Photography" in Oslo, Norway. Although Nina has mostly done nature & wildlife for the last decade, she is also doing on-location shoots, weddings, portraits and other studio work. Her award winning work appears in many catalogs, magazines, postcards, websites, calendars and more.
General information at https://alwaysanadventure.ca. Current birdwatching excursions at: https://alwaysanadventure.ca/local-excursions-programs/birding-program/