The Perfect Gift for Every Nature Lover!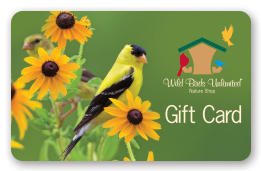 Every nature lover is different, so finding the ideal gift for him or her can be difficult. Or you may like to surprise someone living in another community. That's why our Gift Cards are the perfect gift for every occasion. They allow your friend or loved one to choose something he or she will truly enjoy. The best part: our Gift Cards are redeemable at every Wild Birds Unlimited location.
Our Gift Cards are now available online at MyWBU Store.