Small Birds, Big Payoff!
Performing a variety of aerial acrobatics, American Goldfinches seem destined more for the Big Top than the backyard. But as exciting as these daredevil flights are, they're only part of what make a goldfinch worth watching.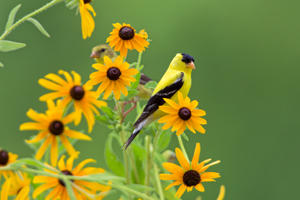 Goldfinches live here year round, a fact that makes attracting them to your backyard a bit easier. Though Goldfinches carry the reputation of being finicky eaters, you'll have no problem finding a suitable offering that will please their palate. Goldfinches are among the strictest vegetarians in the bird world, selecting an entirely vegetable diet. They love to eat fresh, dry Nyjer® (thistle) and sunflower seed.
In early fall, the male Goldfinches moult into duller winter colours that resemble the female's soft olive green and subdued yellow tones. And just when it seems as though winter will last forever, the male Goldfinch forecasts spring's arrival with the reappearance of its glamorous buttery yellow. Male or female, the Goldfinch's striking features are always pleasing to the eye and make any backyard distinctly more colourful.
American Goldfinches do not nest until mid- to late-summer, long after most birds have started their families. In July and August, after the male has serenaded the female with canary-like songs, goldfinches begin to nest for the first and only time of the year. The location of the nest is usually 5-10 feet high in trees or shrubs and often near a water source. The delay in nesting affords bird enthusiasts the opportunity to focus their attention on Goldfinches during this exciting time of song and activity, especially since other birds are less active because of their new family lives.
Our Quick-Clean® Finch Feeders are designed to make life a little simpler for your birds and you. The reinforced metal feed ports make it easy for finches to dine on Nyjer® (thistle), while the removable base makes cleaning a breeze. These feeders are backed by a lifetime guarantee that includes squirrel and raccoon damage. We also offer a variety of accessories including trays and weather guards, as well as a finch feeder in our exclusive Eco-clean line, which inhibits bacterial growth. Come by for advice on how to attract these dazzlers to your backyard!