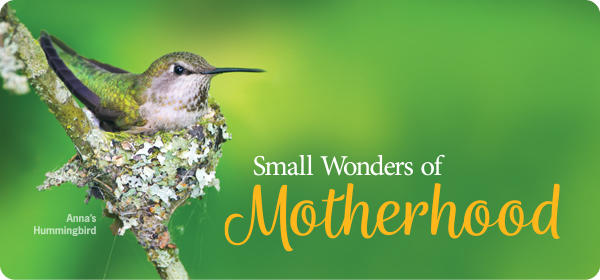 These miniature marvels have been migrating between North and Central America for hundreds of years, a round trip in which millions of hummingbirds instinctively participate.
For the next few months, backyards around the area will be playing host to these amazing, food-frenzied birds. They possess the fastest metabolism of any animal on the planet, burning through between one to two times their body weight in food every day.
Despite popular belief, hummingbirds do not suck up nectar with their bills. They actually lap it up with their tongues, drawing nectar from its source up and into their mouths almost 12 times a second.
Hummingbirds will head back to Mexico and Central America in late summer, early fall.
Hummingbird Feeders
Our specially designed WBU Hummingbird Feeders have built-in ant moats to keep bugs out and feeding ports that prevent rain water from diluting the nectar solution. They're easy to hang or pole-mount and easy to clean (top shelf dishwasher safe). They're also backed with a lifetime guarantee.
And you can be wowed at your window... to get really close to these cool little creatures, mount the Window Hummingbird Feeder. It's easy to fill and clean and makes a delightful gift. It's also backed with a lifetime guarantee.
Ask us about our Wild Birds Unlimited Hummingbird and Oriole Nectar which provides the high calories these active birds need. It contains no dyes or additives, is easy to mix and delivers wonderful results. Dissolve contents of pouch in 4 cups of water and then fill your feeders. Any remaining solution can be stored in your refrigerator up to one week for later use in our handy Nectar Bottle.
Our Hummingbird Share the Joy Box makes it easy to attract Hummingbirds. Each comes full with everything needed to bring these jewels of nature to your backyard - our WBU Small High Perch™ Hummingbird Feeder, WBU Nectar, a WBU Nectar Bottle, and a WBU Nectar Port Brush. And makes a wonderful gift!