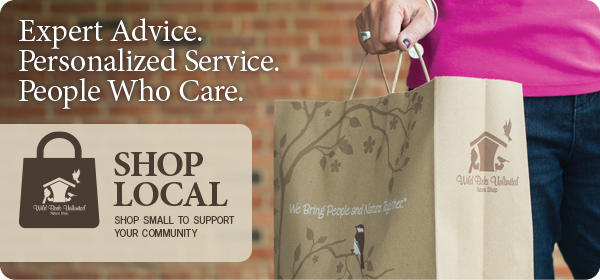 Shop Your Way and Keep Your Birds Happy!
Now, you can order your birds' favourite foods, bird feeders and more anytime and from anywhere with our online ordering option called MyWBU. When you order online, you'll get the same prices you'd get if shopping in our store and your order will be handled by the same WBU Ottawa staff you already know and (we hope) love.

Whether you can't make into the store and need something delivered, or you just want the convenience of having your order ready for in-store pickup, we've got you covered.
Daily Savings Club points will accrue for online purchases and even count towards earning Bird Buck Coupons. More about the Daily Savings Club at ottawa.wbu.com/dsc-membership.
You can keep your feeders filled by ordering online at order.wbu.com/ottawa to have items delivered or to arrange for curbside pickup. Or, just call us at (613) 521-7333.
1. For scheduled curbside pickup - the quickest way to get your order and at no cost to you.
Create or Login to your account through our myWBU Online Store at myWBU Store Shop Now.
If you are a Daily Savings Club member your account will associate with the email address you indicated when you completed your membership form in the store.
Add items to your cart and proceed to check out. Select Curbside Pickup and enter your vehicle information.
A WBU Ottawa team member will contact you to schedule a safe, convenient pickup time. If you do not have a scheduled time, please do not come to the store.
At the scheduled time, drive up to the curb, call our dedicated pickup number visible at the curb, open your trunk and we will happily bring your order to you.
2. For home delivery, order online at myWBU Store Shop Now for parcels to your door. Free with a purchase of $99 or more, otherwise $14.99* with a purchase less than $99. Delivery times may vary from 7-10 day business days.
PLEASE NOTE:
We are not providing delivery of 20lbs bags of birdseed directly to your home address - Curbside Pickup or In-Store Shopping only.
Bird Bucks do not expire - paper Bird Bucks are redeemable in-store. If you have earned Bird Bucks through our Online Shop, they can be redeemed in-store or online (eligible bird bucks can be applied at check out).
if you need help placing an online order, contact us by e-mail at [email protected] Remember to include a phone number so we may contact you either by phone or return e-mail. We will contact you as soon as we can. Please understand, it may take 2-3 days to respond.
For general inquiries, call us at 613-521-7333. We can't always get to the phone, but leave a message and we will get back to you.
We truly appreciate your support of our locally-owned small business. Enjoy your Birds!
The WBU Ottawa Team
-----------------------------------------------------
*charges may be greater depending on distance.