Join Our Flock!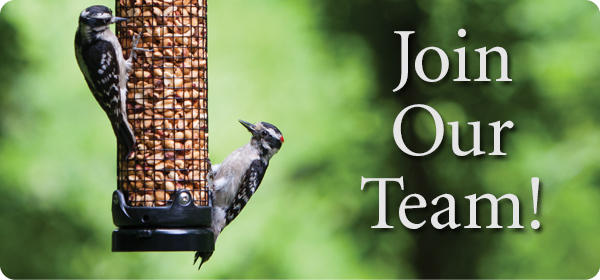 Wild Birds Unlimited Ottawa – Retail Sales Associate (Part-time)
Updated: July 9, 2022
Did you know? That blue jays feathers aren't really blue. That owls don't have teeth. That hummingbirds can flap their wings over 70 times in a second or that a chickadee will hide about 80,000 seeds in a season? These are just a few of the fun things that are discussed on a daily basis at Wild Birds Unlimited Ottawa.
Wild Birds Unlimited of Ottawa, ON is a small, locally-owned business. We are fun, inclusive, customer-centric and our goal is to bring people and nature together with an exciting and educational working environment. Wild Birds Unlimited is North America's most recognized retailer of backyard nature and birding products.
We are looking for a part-time Retail Sales Associate (we want you to still have time to watch the birds and find beauty in your own backyard!).
This is a fantastic opportunity to blend your personal interests with like-minded environmentally focused individuals in a retail environment. Working at our store is an opportunity to learn about the beautiful birds and diverse nature that can be found right outside your back door.
Your top priority will be engaging with our awesome customers while providing education on our products, our local birds and the hobby of backyard bird feeding. Other responsibilities will include shipping and receiving of orders, pricing, merchandising, and restocking the sales floor.
Through our unique training program, you will work towards becoming a Certified Backyard Bird Feeding Specialist.
Skills and Experience:
• Previous retail experience preferred.
• Friendly, outgoing disposition.
• Must have an interest in nature and wildlife.
• Wild bird feeding knowledge is a strong asset, but not required.
• Must be available to work weekends.
• Ability to lift and carry up to 50 lbs of seed.
• Ability to work in a fast paced setting and spend extended periods of time on ones feet.
• Must be comfortable with computers and be able to use a computer-based POS system (training for POS provided), Word, Excel and social media platforms
Are you our next great employee? Please email us your resume ([email protected]).
We can't wait to hear from you!