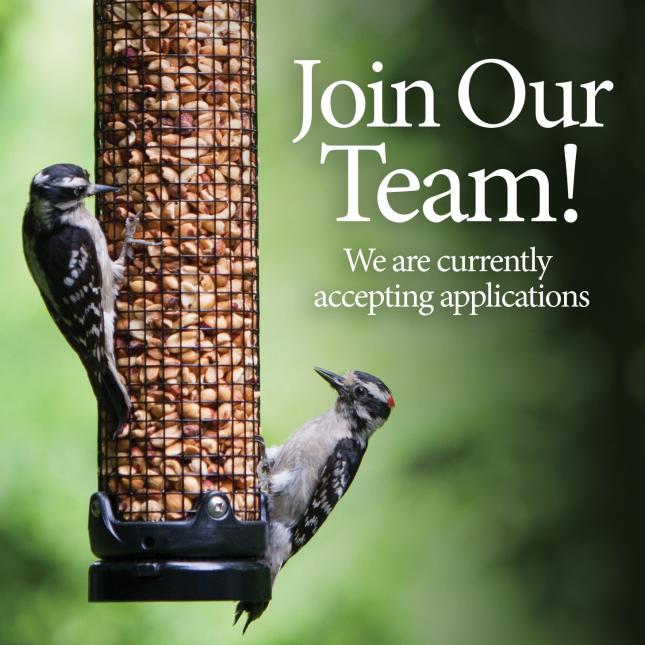 Are you our next great employee?
Wild Birds Unlimited helps people enjoy nature in their own backyard through quality bird feeding products, expert knowledge of wild birds, and trusted local advice. Our Sales Associates demonstrate professionalism, enthusiasm for the hobby and provide superior customer service - priority #1.
The position of Sales Associate reports to the store manager and/or owner. The primary responsibility of a Sales Associate is to provide a high energy customer experience. We provide online training for our Sales Associates and logo clothing. Associates are expected to read and understand the Product Information Handbook and successfully complete the Certified Birdfeeding Specialist Program. Having more than a passing interest in nature and wild birds is an asset. We are a small speciality store. The ability to work with others on a team, be a "quick study", follow direction, and have an outgoing personality are all important considerations.
Benefits: Flexible working hours; on-site parking; competitive wage; employee discount; recognition and appreciation.
Job Types: Part-time Sales Associate
Application:
To apply, send your resume with a short covering letter telling us why you are "our next great employee" to [email protected] with the word, "Application" in the subject line. Please include your answers to these questions:
How many years of customer service and sales experience do you have? (3-5 years experience preferred)
How many years of interest in wild birds and nature experience do you have?
What is the highest level of education you have completed?
What is your availability (days and hours) for work? (some weekend work required)
Why are you interested in this job?
We appreciate all applications; however, only candidates whose background, qualifications and availability meets the needs of Wild Birds Unlimited Ottawa will be contacted for an interview.
To view the job description, click on: Sales Associate Job Description.
Our goal is to provide quality products, service, expertise and a high energy shopping experience. Help customers bring nature into their own backyards and lives.The support and training that we provide to our Sales Associates will enable you to function confidently in a retail environment. We offer a competitive wage in a pleasant working environment.
Work Environment:
Commitment To The Hobby Of Bird feeding
Appreciation Of Nature
Interact With Great Customers
Positive, Professional Work Environment
High Standards Of Business Ethics
Wild Birds Unlimited Brand Products Contribute to the Store's Success
Training:
Complete Backyard Birdfeeding Training
Complete Retail Training
Sales Training
Employee Handbook
On-Going Training
Training Provided To Do The Job Well
Come Join our Team!